Please contact us at info@northwestknowledge.net if you have questions about our services.
SERVICE
INTERNAL RATES

Data Storage

stable and enduring access to data

$325/terabyte per year

Development

mobile apps, websites, databases, learning management systems

$85/hr

Hosting

(a) Web Applications/Databases
(b) Virtual Machines

(a) $600/yr
(b) $1500/yr

Hosting includes proactive security patching, firewall management, software installations, and full user support.

UAS Data Acquisition & Processing

$100/hr

Consulting/Technical Services

metadata, proposal writing,
data management, etc.
$100/hr
NKN operates as an official academic service center with partial financial support from the University of Idaho. This institutional subsidy lowers the costs associated with providing services, subsequently lowering the rates charged to users within the University of Idaho. However, federal regulations require that external Service Center Users must be charged unsubsidized, fully-costed rates.
In simplest terms, we define Internal and External Users as:
Internal User: Internal NKN Service Center Users are academic users affiliated with the University of Idaho who pay for NKN services using direct charges against a UI budget number. Examples include departments and PIs within the University of Idaho and any grants administered by the University of Idaho (including subcontracts).
External User: External NKN Service Center Users are an entity or person that is legally separate from the University of Idaho but who wish to purchase services from NKN. Examples include PIs from affiliated universities, private firms, and commercial research laboratories. Contact us for external rates.
Why use NKN over another storage service?
NKN provides high-capacity, enterprise-class data storage, and captures automatic snapshots for fast data recovery. NKN also replicates data on a daily basis to offsite data stores at Idaho National Laboratory.
NKN's $350/TB/year fee is comparable to Amazon S3, but Amazon also charges for data transfer, which NKN does not.
Data Management & Storage
Why is data management important?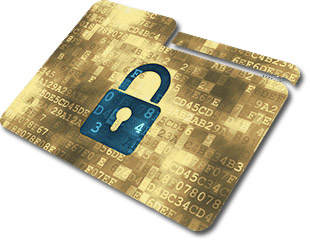 Quality data and metadata developed in research projects and curated by NKN is a valuable, long-term asset and provides a foundation and source upon which to develop and build new research and science.
Most competitive grantors require data and metadata management plans in grant proposals. Many also require that funded research projects make their data accessible and reusable to the research community and general public in the long term.
NKN is structured to provide this type of assistance, helping researchers with the establishment, storage, and curation of quality data and metadata. NKN manages U of I's official data repository, and maintains and cultivates connections to relevant national and international data repositories — making your data citable, findable, and persistent.
What if I have my own storage device?
While backup drives can be helpful for data recovery, these devices are still vulnerable and may be compromised or lost. NKN provides high-capacity, enterprise-class data storage, and captures automatic snapshots for fast data recovery. As an additional failsafe, NKN replicates data on a daily basis to offsite data stores at Idaho National Laboratory. With these redundancies in place, you can rest comfortably knowing your data are secure.
Mobile Apps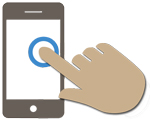 NKN recently added Mobile Application Development to our list of services. We have experience in iOS app development and testing, as well as Android mobile app development.
We can help guide your project from your big ideas on the back of a napkin to the development, testing and publishing phases.
NKN has a diverse skillset that allows us to tailor our services to match the needs and complexity of your project.
Learning Management Systems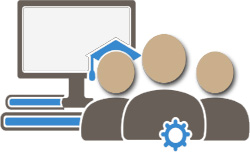 Does your project have an outreach learning component and users scattered across geographical regions? NKN can build an LMS specifically to meet the needs and scale of your project.
Here are a few of the many benefits of an LMS:
Content integration and interoperability on all browsers and devices
Accessibility (Section 508-compliant)
Certifications
Geographic-independent learning
Web conference availability for instructor/students inside the LMS - no need for additional accounts with 3rd party software
Website/Database Applications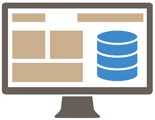 NKN development services include design and creation of websites and databases, along with data visualization, data analysis, collaboration, and knowledge sharing tools.
NKN is able to build custom web applications that are tailored to meet your specific project needs. Whether you need a custom web application from scratch, migrate your legacy site, or streamline an existing site, we can help you accomplish your goals in an efficient and cost-effective manner.

NKN hosts simple to complex web applications and databases. We also provide dedicated virtual machines (VMs) for development and production environments.
Our VMs and website hosting services are 'managed' services, meaning they include proactive security patching, firewall management, software installations, and full user support.
See a list of websites and database applications hosted by NKN.
UAS Data Acquisition & Processing
NKN offers unmanned aerial data acquisition and image processing services.
The applications of unmanned aerial systems (UAS), commonly referred to as drones, are wide ranging:
Aerial imaging and videography
Precision agriculture
Wildlife/biological surveys
3-D structure and terrain mapping
Forest monitoring
Archaeology
Infrastructure inspections
Search and rescue
Hazards mapping
and many more!
Given the time and effort involved in obtaining a commercial remote pilot's license, the cost of equipment and insurance, and the detailed authorization paperwork needed to conduct flight surveys, we believe NKN offers an efficient, cost-effective means to obtain and process high-quality UAS data in support of research projects.
NKN has two FAA-certified drone pilots, owns and operates a small fleet of DJI drones, has access to a multispectral sensor, and plans to acquire additional aircraft and remote sensing tools (e.g., thermal, hyperspectral sensors, LiDAR).

NKN staff understand the challenges associated with data management. We can provide assistance with proposal writing, development of data management plans, metadata creation, systems administration tasks, and more.